Hybrid, Squire, Combat Medic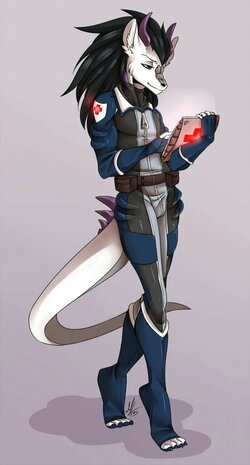 Draconius Mythik Wolfington, a hybrid born to the Wolfson noble line of Ryzaak V. The gentle young man grew up learning to be quiet, to not bring attention to himself thanks to the family's outdated views on mixed-breed children. On his sixth birthday, both he and his mother were disowned and his father, ever loyal, left as well. Since then, Draconius and his family grew up as drifters, living with nomadic caravans and doing what they could to survive.
Though he and his family were content with this life, it seemed as if the galaxies had other plans for the young man. On his tenth birthday, after four years of exploring interests, the caravan that his family were with was attacked by pirates. Draconius himself was taken, as slave traders liked them young. His parents didn't have the money for ransom, and the Wolfsons could care less if the stain on their genes was cut out.
If it hadn't been for a Knight of the Galaxies, there's no telling what would have become of Draconius. The knight took Draconius on as a squire as they seeked out his family, but nothing ever came up in their search. So, with a heavy heart, Draconius enrolled in the Knight's Academy. After six more years, Draconius's parents were still missing, and the young hybrid was graduating, about to be assigned to a full knight who would complete his training in the Galaxies, which had long before fallen to ruin and war.
And so it was that he squirmed in line, waiting for his name to be called. In the years in the academy, the hybrid had shown such skill with medicine and healing that he was classified as a
Medicae
Squire, one type of specialized squire. He was, of course, proficient with weaponry, but Draconius was a master at healing and social situations.
"Draconius Mythik Wolfington!"
The young man perked up and would step forward, his tail waving as he waited for his knight to come forward.