Amy Winston, known as Princess Amethyst of the House of Amethyst, sighed as she rubbed her face. Her body was covered in cuts and her outfit in tatters clinging to her scars and scabs in places. Around her the remains of the House of Opal, save one who stood at her side, including the dark lord himself cleaved in half. The civil war of the Jewel Kingdom had been costly. Most Houses were decimated if not fully wiped out with the rulers either dead or missing. The 5-7 blonde with near golden locks looked among the survivors in like condition as she that surrounded her.
Are we

in agreement this was totally unnecessary? So much suffering and for what? A chosen select have all the power when the old ways have worked so well for so long?"
The other princesses all nodded wearily. "Millennia." Emerald commented with even more nods of agreement
"Princess Opal." Sapphire said. "You've been quiet."
The fifteen year old sheathed her sword. "I made my decision when I chose to stand with you. I'm the last living member of the House of Opal. I intend to stay good." She stalked towards the ruins of her palace. A palace she helped destroy.
Ruby started after the youngest member, but Amethyst stopped her.
"Let her go. Give her time. She knows she's more than welcome at any House she fought beside. The best way to be a friend is let her grieve, and come to us when she's ready."
She sheathed her sword and walked solemnly back towards her own Palace.
"Wise decision as always, fearless leader." Topaz grinned.
"Stop kissing up. War's over." Diamond hissed. "She was never that interested in you. Hell. She wasn't interested in me. She liked Sapphire, so she needs a feisty girl."
"If she's into girls." Ruby pointed out.
"Oh, she is." Diamond commented. "She just doesn't know it yet."
The next day had Amethyst looking at the portal to earth. Maybe trying to set up relations again with the planet she grew up on could help with rebuilding. But how could she show her willingness? Then it struck her. Apply to a teen hero group and fight along with them. She stepped through.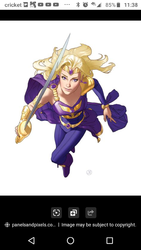 Ember
Olive woke up next to her lover and rubbed her face, and slowly got out of bed. Instead of starting the coffee like she would normally, by regular means, she boiled the water in the perculator with her eyes. The coffee tasted better, but it was still too dangerous in their headquarters.
"Good Morning."
she called to the others, including her lover.
"Coffee almost ready."
Artemis and Velocity
Velocity was running too and fro in the kitchen at superspeed, preparing bacon, egg cheese and lettuce muffin sandwiches.
"Why's it take so long for bacon and eggs to fry and English muffins to toast?"
she fussed
"Not this again..."
Artemis growled. Plop. A sandwich on a paper plate fell in her lap by a pink blur.
"I said leave the lettuce off mine! Did you lose your brains again because of your speed?! Moron!"
She tried to take it off, but Windy MacEnroe stopped her.
"Let go of my hand, Velocity, before I feed you my arrows!"
Artemis growled, frowning.
Windy smiled.
"You heard Arrow, Artie. We need more fiber. Lettuce is good fiber. Would you rather have a bran muffin instead?"
Artemis developed a tic while pushing Velocity out of her space.
"I'm sick of this fiber kick
(not really),
"I'm sick of no action"
(careful what you wish for)
"And I'm sick of YOU! LEAVE ME ALONE!'
Olive watched all this, actually slightly amused, saying,
" Velocity and Artemis are at it again, Nightstar. We desperately need another speedster. One Artemis will like."
She poured a cup for Nightstar and Lady Shazam who was still in her Mariam Batson persona.
"Thanks. Well, hot headed girls will be hot headed girls."
she sighed, before taking a sip.
Last edited: