Joined

Apr 11, 2020
Location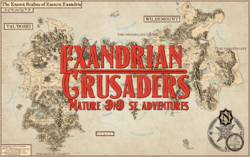 ​
For over two hundred years, peace has reign across the kingdoms. Sure, there's been a few small skirmishes between neighbours on occasion, but mostly any conflicts have been small and contained. We live in a time where magic and faith, along with the technological wonders of the artificers and the cultural gifts of bards, have made life more comfortable than any other time in history.

All that could soon be placed at risk however, all because of one small ship, sailing in seas it should have stayed clear of...
Anyone wishing to participate in this campaign, please provide a
character sheet
completed with all the basic details (race, class, etc.) for a 3rd-level character using the
Point Buy
system to generate their attributes. Full details, such as backstories, character descriptions, religious beliefs and organisation affiliations are not required to secure a place in the campaign, although would be gratefully received before the campaign begins.
Characters must either use the details currently available on Wikidot, or have documentation available to fully detail their skills, traits and perks before they'll be accepted
​
Last edited: