First Day by Laura Shigihara
(Pop Music beat)
It is the first day
Don't know where I stand anymore
I've got my hands in my pockets
I'm staring down at the floor
When I walk through the halls
Will I fall flat on my face?
Am I in over my head?
Are people even gonna know my name?

Give it time, it's okay if I
Don't figure everything out overnight
It's too late now, gotta fight!
A-one two three!
Gotta be
Everything I can, I might
Fail, if that's the way it's gotta be, I'll prove
There's more to me than what you see
I'll live my life
All on the first day.

(Musical interlude)

It is the first day
And I'm sitting all by myself
All the
Weird things about me
Maybe I should leave them somewhere else-Whoa
When I wanna speak up
My voice decides it's gonna get really small-whoa oh
Cause there's that
Part of me
That wants to run and not be seen at all (repeat second section above)

(Theme fades out)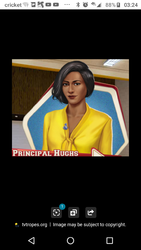 The PA system crackled to life as the Principal came on over the speakers throughout Oliver M Berry High School, located somewhere in a major metropolitan area in the United States.
"Good morning students and welcome to the first day of a new school year. There's plenty of activities to be had here, and we are always looking for volunteers to help greet all new students that come through these doors. Please be aware however of the following rules.
1. Respect the rules of the site. We adhere to guidelines brought down on us by the superintendent of the district (administrators), and if we don't abide by them, we'll be shut down. The big one is no student under 15. This is HIGH SCHOOL.
2. Drama is expected in the role play. It's what drives the story. But leave drama that is going on outside our doors (RL), it doesn't need to be dragged in here (IC)
3. Be considerate of others who join in later, allowing them to merge into the school populace.
4. Do not move a character that is not yours without permission. This could be construed as bullying (it is godmoding), and will not be tolerated. It is the discretion of either myself or the vice principal (which I would like a site staff member to be) on whether you are even warned (All your characters could easily get expelled and/or fired).
5. We believe in exploring your sexuality, but prefer you do it as little as possible. This is High School
STORY
, not High School
Porn
6. Be respectful of each players' nos on their f-list. They have them for a reason. If you are caught pushing it sexually, it's automatic expulsions of all your characters.
7. Once there is a certain number of players, it's requested (for now) that you allow everyone a turn before you reply to those referencing your characters. It's courtesy as well as common sense.
8. Set time to reply. For the sake of the players, again common courtesy, please take no longer than seven days to reply. If you take longer, then you will just have to reply when you can, and that will be your new position in the rounds to follow.
9. Once there are multiple players, please alert the next player it is their turn. Again it's common courtesy.
And finally, number 10. If it is indeed your first day... Please introduce yourself as follows, and remember... have fun and... Go Tigers!:
Name
Age
Grade (if faculty, skip)
Are you a student leader? If so, what is your role?
Class (for teachers)
Appearance (description or picture)
Personality/Traits
Sexuality
Caste (are you a nerd, cheer, jock, band, slacker, class clown, etc)
Your opening will then be under your introduction.
Last edited: