The Devil You Know: Inside the mind of BlisteredBlood
08-05-2011, 11:01 PM
BlisteredBlood
Resident Psychotic


Posts: 3,340
Joined: Jan 2009

Thanks: 0
Given 0 thank(s) in 0 post(s)

RE: The Devil You Know: Inside the mind of BlisteredBlood
Friday Night,
August 5th, 2011
Folks, I'm in a good mood. Why? I am.
It seems as though my mom dodged a WICKEDLY huge bullet. Yes, she did have CHF and her blood sugar was blowing into the 800+ range and shit like that, but she got extremely lucky due to the fact that her potassium levels were holding at a normal range. That's something that I can thank God for keeping my mom safe for. Ugh. The candles I owe for that. I swear, I'm gonna be surrounded by more candles than all of La Salette Shrine by the time I'm done and I'm in my mid 50s.
She's still dealing with the residual damage whatever caused her to have it in the first place, but thankfully, nothing worse happened.
I'm also happy to announce that after four months, I've decided to take a break from commentating on YouTube, with the season finale video that I uploaded just recently. Not for nothing, but geez, does pointing out flaws and calling out bullshit when you smell it takes its toll on you.
With that, I'm now going to tackle some projects I was either wanting to do personally or was requested to do, including a Let's Play of Flashback: The Quest For Identity on the Sega Genesis.
Oh, the fun I'm gonna have when I get back~
Also, I've also been involved in a YouTube RP, something that was considered to be the first time I've ever done in all of my ten years of roleplaying! Go me for being inducted into it, huh? But yeah. You can find what I've been up to on my channel.
Here's the current character list as follows in this picture.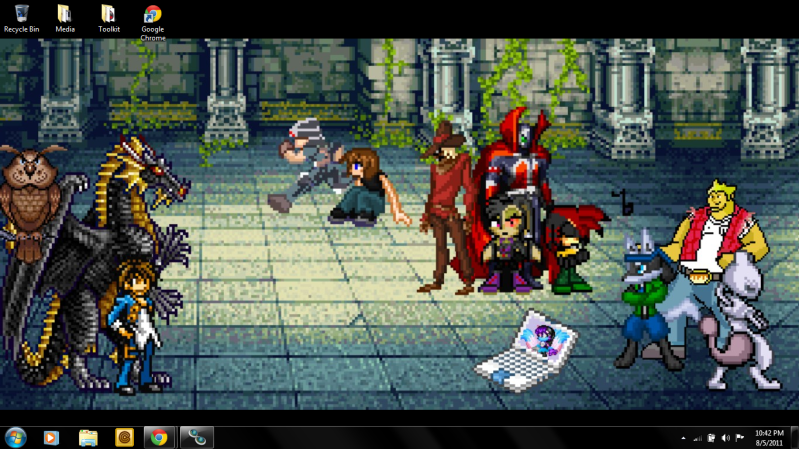 As you can see here children, yes, there are some canon characters including some OCs. In case you haven't noticed, Spawn there is being voiced by yours truly. I know I'm not Keith David, but I'll be damned if I don't sound like him through the use of Audacity. I also have another character involved in this, but I don't plan on using him just yet. You'll have to stay tuned in order to find out what goes on.
But yeah, Blue Mooners. I'm back and I'm here to stay.

Current Theme Song:
The Sound of Silence (Simon & Garfunkel Cover) by Disturbed
Journal
-
Last.fm Station
-
YouTube
-
Steam
-
Tumblr
User(s) browsing this thread: 1 Guest(s)
---