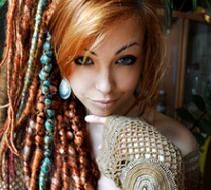 Name (Nickname):
Jibril [Jack]
Attire:
Light blue, off the shoulder crochet top with a black cincher, black cargo pants with dark red suspenders, black and blue knee high socks, and black knee high boots with multiple buckles. [Currently Naked]
Weapon:
double-barrel old world shotgun, old world katana, new age katana, and two hunting knives.
Location:
Erebus [Oasis a distance away from the Kodiak]
Tagging:
Zaphkiel/Nesmith
Time:
October 1, 3075; Night
---
A growl escaped her as his fingers slipped inside, prodding and stretching her, managing to pull a moan from her especially with the way he teased the sensitive bundle of nerves with his tongue. However, she couldn't help but snicker when she felt him pause and pulse in her hand, as if being unused to the sensation before he went back to what he was doing, drawing her own attention back to his mouth and fingers in a way that made her growl again. When he spoke, she could hear him starting to cave to his carnal wants. It was thrilling to hear along with the way his body shook beneath her whenever she stroked him.
"Nice? I rarely do nice but naughty is definitely something I can do~"
She managed to say, voice just as rough, her body arching just the slightest bit when he added another finger, stretching her further. It felt so good that she couldn't help but let out a small moan, stroking him a little faster, picking up her pace enough to make him take notice. She wasn't going to let him get off this way, but it was fun to tease him into thinking he would.