Joined

Jun 21, 2022
Location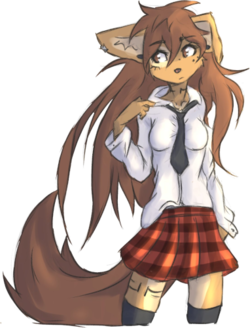 My name is Annie. I was born on the starship returning from Alpha Centauri after the ship discovered and tried to populate the planet known as Cat World. As you all know, it was a perfect Earth-like planet with one exception, the virus. The virus modified humans so that children conceived when one or both their parents had the virus were born with some cat features. I was raised as the starship circled Earth and scientists studied whether the virus was still on the ship. And once they learned it wasn't and that only children conceived while their parents were on the planet had the mutation, we came to Earth. I and my fellow kitties as we called ourselves were certainly mutants, humans except we had tails and kitten ears and big, round eyes and occasionally purred because we had that extra set of vocal chords. Oh, and in addition to my two 'girl' breasts, I have another much smaller pair of nipples farther down. Some of us have different numbers of nipples, even the boy kitties. Oh and so far anyway, we're apparently sterile, no babies for me no matter who tries. We tended toward meat and fish for food too, and certain leafy plants can drive us crazy with hallucinations and wild dreams. The other kids on the starship and their parents were all kind to us kitties and our parents. The first strife arose after we were allowed to return to earth.

My parents took a house in a suburb outside the spaceport. I attended the local public school along with maybe a dozen other kitties and we hung out with a bunch of normies who didn't mind our looks and liked us because we were all spacer kids who tended to be smart and a bit nerdy. Other normies tried to bully us and called us names. Their mean nickname for me was Annie Pussie. What they didn't know was I had something else going that was also true of some other kitties, I looked like a girl and have girl parts down there. We kities all look like girls but some have boy parts. That was our kittie secret. Only kitties could tell boy from girl kitties. Scientists thought it was pheromones, but whatever it was we just knew. We went to dances as a group so there was never any such thing as dating. I liked some of the normie boys and girls and two boy kitties and one girl kittie but we never dated or got close.

And then we all graduated high school. I was enrolled in Biology at the big state university at the spaceport, but that didn't start until fall. I didn't have to work because my parents are both spacers and make great money. So here I was on a bright summer day with nothing to do. Except explore. So explore I did. I dressed like I enjoyed, nylon bra and panties and long sleeve nylon blouse and plaid skirt and I threw in a tie just for fun and over the knee stockings and tie flat shoes. Our backyard fence didn't reveal anything except the neighbor's cat who came over and we talked cat for a little while – did I say I spoke cat? all us kitties speak fluent cat and sometimes use it as our private language except the vocabulary isn't very big so there's not many things we can talk about. And then I decided to brave the street out front, a first.

I walked down the block, memorizing each of the houses. Mostly stucco over cement block because of the hurricanes that sometimes blew into the spaceport. A few with brick or stone. All with nice landscaping and palm trees. One window had a lady looking out. I waved to her and she waved back. Another had a man who did not wave back and turned away. I continued my walk.
Last edited: