So I want to do a original world set within the framework of City of Mist. It is a TTRPG. I am utilizing most it's set up and the ideas behind how people have their powers, but outside of that it will be an original City, with it's own players and such. Free for the players to go into and make their own stories. I do not plan on having some big grandiose and planned out storyline; Just simply having a finished setting for role players to sandbox in and have me gm.
(The idea)
Ordinary people with the powers of myths. Crook's or law abiding citizen's connected to legends. Mothers and fathers alike living a fairytale - All searching for the truth in a mystery shrouded metropolis. What is this mist? How does it change you and most importantly... How HAS it changed you?

In this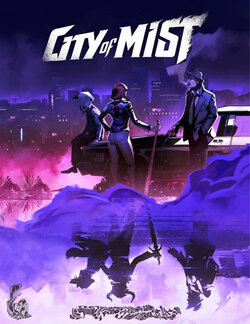 A women hold's onto her hand, grasping tight. What just happened? What did she do to that man? She touched him in protest to his attempt to grab her and a light shown from that delicate palm. Questions swirl but no answer comes to mind. Confusion spreads and spreads deeper as the man who attacked her, having fallen to the ground, get's back up and doesn't remember a thing she did. He looks dazzed, like a hypnotized thrall, apologizes and goes away. How? Why? Was this some fantasy? Soon, a figure who watched from down the alley pokes out of the shadows. Tipping his cowboy hat as he spoke in a Cajun accent that was both comforting and alarming. Tickling the back of her subconscious.


"My my, what have we here? A new one in our midst. You are just trying to eke out a living in the City like everybody else, right? You have your home, your loved ones, your things, and whatever it is you do with your time. But, without even knowing it, you're also a gateway to a strange legendary force: a Mythos. Nobody really knows what the Mythoi are, or for that matter, what Rifts are. The vast majority of people in the City don't even know the Mythoi are real. Maybe you were still one of those people up until this moment, but in all likely hood, this isn't the first strange thing to happen now is it? What you do know is that lately you've started feeling a strange presence inside of you: something unknown and yet immensely familiar, like an old childhood memory. Maybe an accident triggered it or maybe it was something you discovered within yourself gradually. Now it's a part of you, and when you connect with it, wondrous and horrible things happen as the power of your Mythos is unleashed into the world. I know your first question now, whats a Rift right? Well, you are silly. Or rather; individuals who have awakened to legendary powers within them - and around them in this doomed city."
​
"WHAT DO I WANT? You ask?"​
"No, the question is; What is it YOU want. You want a lot of things. You want to keep your job, you want to make your momma and pappa happy, or maybe you just want to find the best blueberry muffins in the damned City? You might also want to take revenge on those who have hurt you, or to show your true worth to someone important? There are different sides to your Identity, each desiring different things. These aspects that define you, that define your day-to-day life are called your Logos. And keep holding on tight to those attachments, ya hear? They are the only things keeping you real. Keeping the story attached to you like a parasite from finishing it's natural coarse, and taking away everything that you are."



"Which leads me to; Your Mythos. It wants you to go deeper, beyond your petty human desires and beyond what you know and so habitually cling to. There is a story inside you child, a legend that transcends your personality and the circumstances of your life. It's calling to you to find it, to unravel it. It's a Mystery that you feel compelled to follow. Now listen, I aint going to just sit here and try to talk you into believing Zues existed and the boogey man is real. But what I aint telling you also, is they aint. Because as far as your concerned, in this city, in every Rift out there, there be a myth that IS real. And a myth, whatever that mythoi may be is parasitically attached to your very being as we speak. And I seen a women with the boogeyman over her shoulder last week, scary stuff."



"Us Rifts harbor them see, we draw power from those legends - but the coin flip is those legends draw on us. They are stories that want to be told and the only thing keeping each story arch from destroying your life and removing the person for the myth is your Logos. Every human attachment lost, makes the myth stronger. And sure, maybe it also means YOU are stronger. But strength aint all that if you aint you and dying aint fun either if the myth inside you is some martyr."


"Many Rifts – after realizing there's something strange going on – ask themselves, "How about I just forget about all this and focus on my life?". In theory, that would be a good idea. But even if you could resist the call of your Mythos, there's one fact you can't ignore: there are other Rifts out there. People like you, perhaps of a less savory nature, driven by their Mythos-looking for new opportunities to further their goals. They may be scheming in the shadows or going on an open rampage through the City streets; sooner or later, one of these legends will find you..."


"Other Rifts might be as new to the game as you are, or they might be almighty legends who have been around for a long time, gaining power and influence in the City. Some of them might even have a personal interest in you, especially if there is a relationship between your Mythoi: your stories may be connected, whether or not you realize it. I mean, what you think happens if A Rift connected to Aphrodite met one connected to Ares or Mars? Not all Rifts pose a threat, though. The City has enough shades of gray to accommodate a wide spectrum of motives, and you may find Rifts who will be willing to help you out for their own reasons. Learn to be flexible – enemies and allies can change sides faster than you think. Any way I spoke enough, and dont go telling anyone about any of this if I were you. Those sleepers out there aint gonna remember squat! Even if you showem your powers... Ah, you will learn soon enough. I gave you all you need for yourself child, so go on out like a new born babe. And good luck... It's a crazy world out there and this City Of Mist, well.... It's where all the crazy piles up.."


With that, just as soon as the figure had appeared, he was gone. The girl, like all of you was left to her devices. To figure herself out on her own and hopefully- protect her life for any length of time she can. As she turns to leave, just like you, she sees it. Like a thick canopy swirling, hovering over the rooftops of city buildings; That mist. Always there. That fog; heavy in the lungs. Something was NOT right about the city anymore. Life can NEVER be the same.​
This is a free form rp idea and work in progress inspired by the TTRPG City of Mist
Mythoi: Mythoi are supernatural parasitic forces that attach to everyday people. The goal of the Mythoi by natural manipulation of your wants, needs and desires as well as manipulating the stringing webs of fate is to take away your Logos so that the Myth can completely consume your character. You are no longer you, you become the myth attached and must face the ultimate climax of their tale; If your Mythos is King Arthur and your mom, who is your final Logos dies. You become consumed by the Myth. Fate ultimately spins a web that makes you face the same events as King Arthur in the end of his life; Dying in battle against a bastard son.
Logos: Are your day to day attachments that keep your characters human. Each Logos you have lowers the power of your Myth. The less Logos you have the stronger your powers are, but the more the Myth begins to take over your life.
Rifts: Individuals whom share one simple similarity no matter what the particulars of their life consists of. And that similarity is that they each have a Mythoi. Their own Mythos to draw power upon, be tempted by, and ultimately lose themselves to if they are not treading carefully.
Sleepers: Any normal joe schmooze on the street. Every day men, women and non gender conforming persons who are not a Rift or from the supernatural realm. They forget anything other worldly they see almost immediately after it happens and are generally blind to the mist that permeates the city.
Mythos examples; Billy the kid -
Milady de Winter
- Geppetto - Tomoe Gozen - Amaterasu - Ne Za - Gauan Yu - The Minotaur of Minos - Alexander the Great - Leonidas -Heracles - Zeus - Hera - Sherlock holmes- Arsine lupan -The Boogeyman - Dr Jekyll and Mr hyde- Dr frankenstein- Frankenstein's monster- Robin Hood - Quasimodo - Little Red Riding Hood - Big Bad Wolf - Baba Yaga - Paul Bunion- Lucifer - Anubis - Isis - Osiris- Thorr - Loki- Freya - Odin - Merlin - King Arthur and even Excalibur it'self if you want to get really whacky!.
And thats all I got so far.