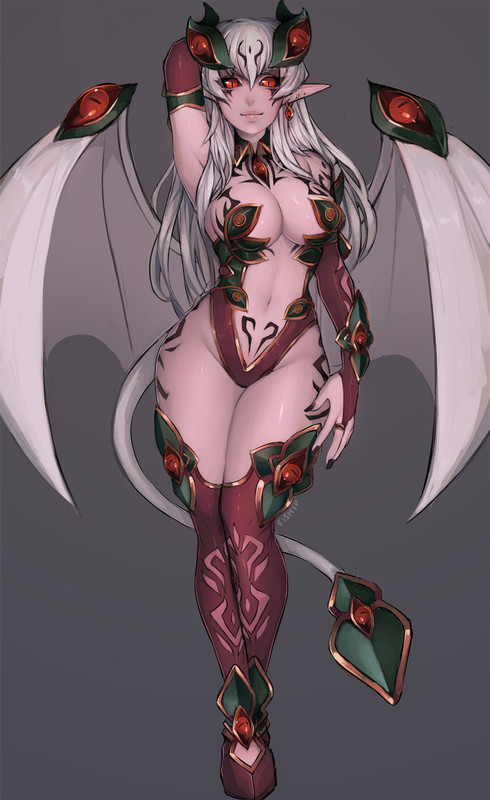 Name:
Akta Angelbane
Age:
414
Occupation:
Succubus Goddess
Relationship Status
: Single
Personality:
Independent, Authoritative, Confident,
Stubborn, Overthinker, Prideful
Lengthy snowy tresses flowed elegantly against the chilled midnight breeze as crimson hues darted around to inspect the area ahead of her.
Akta
perched herself atop of a mountainous hill, the rocky terrain underneath the soles of her boots caused her figure to look lopsided in pose. There weren't many of her kind left, being considered a dying race. Those that were alive and breathing determined that pairing into groups would be beneficial for keeping their kind extant. Sticking together with others wasn't Akta's favored method, being too independent, be it due to her title or not. To her, they'd just get in her way. It'll save a lot of trouble and heartache for herself and others if she were to ride solo. She meant no ill intent towards her fellow sisters, but she was too stubborn to agree to another's idea or proposition. Her way of thinking was always more than likely the best way to proceed, albeit more dangerous.
It was hard to not lick her ample lips as she watched inebriated awful men with ill intention stumble out of the town's tavern. They were what you'd call 'fast-food' in the Succbus world; something quick and easy to obtain with little to no rebellion, as well as a quick way to rid of a pest. Her tastes were more refined, favoring those who were rich in magical energy, meaning those with harsher personalities. If she were to target those salivating individuals, her stamina better be full and replenished. It was more tedious to take out a magical being, or anything that held an abnormally higher power, but that was rare. The thrill of the fight was what she also fed off of, but that was considered her appetizer before the anticipated entrée. Tonight, she had no desire or willpower to put up a nasty fight with her favored dish.
Thickened black wings
sprouted from her back, stretching outwards to display the leather-like beauty as the pale moonlight graced itself upon her. She knelt down as her right palm touched the rubble underneath her, thrashing around her midnight organs of flight. The miniscule pebbles that coated the gravel rustled from the disruptive winds. Once she felt ready, her palm would push outwards, her wings forcefully flapping inward to elicit her body the ability of flight. She soared in the darkened skies like a storm cloud, ready to cause havoc on those who could not oppose her. It didn't take long for her to stealthily land in the shadowed alleyway, the darkness swallowing her from being noticed by passerby's. Midnight hunting was the preferred way to go since there would be less witnesses, although that truly didn't matter to her. She'd kill them all with just a flick of her wrist.
Her meal messily strolled by quicker than anticipated, passing by the entrance of the alleyway and continuing his stroll on the sidewalk by the road. From the first glance she could tell that this gentleman was an adult, yet too naïve to be over 28. The younger ones had more vigor to nourish her appetite, her stomach already rumbling from the phantom tastes in her mouth, anticipating his flavor.
Foolishly he mumbled incoherent words to himself, chuckling as if he had just heard the best joke of the century. The faint scent of alcohol burned inside of her flared nostrils, knowing that whatever he last drank was very... potent, to say the least. Akta placed her hands by her side as she turned them over in a position that would insinuate her anticipation for catching a falling object, yet there was nothing to grasp. Elongated claws erupted from her digits, appearing to be as lethal as a freshly sharped sword.
Usually, her favorite game was to play with her food, but tonight she wanted nothing to do with her immature ways. Her pointed ears twitched as she momentarily concentrated on nearby sounds. Nothing was in close proximity to her or her midnight snack, so the coast would be deemed clear. Hastily her feet rushed towards the man at an abnormal speed. She wasted no time to snatch him from his drunken daze, dragging him into the alleyway she just came out from. He made no attempt to scream, instead grunting in confusion as his back landed firmly against the cemented walls that encased the pair within.
His green irises lazily looked at her face, a smirk soon protruding from his chapped lips. "
Hey... I don't remember seeing any hookers around this side of town... How much for a quickie?"
He chuckled once more as he leaned his head back weightlessly. Akta's curvy figure leaned into him, closing the distance between them. Her left leg resting in between his legs before lifting it up to have her knee caress his groin. She wouldn't be considered a Succubus if she didn't have some sort of sexual seduction to her, right?
"You poor fool, I feel so sorry for you. I'll tell you what... I don't do this often, but because I pity you, I'll let your last moments be something to die for."
Slowly her purple lips that resembled the hue of a bruise leaned inwards, locking her lips with his as the tip of her nails gingerly skated against his arms, motioning all the way down to the backside of his hands, then coiling around to his back to embrace him. He was startled briefly by her pushy demeanor but slowly his eyes closed, soaking in the kiss of a hot stranger. Just as he was starting to get comfortable with the taste and feel of her lips, her tiny daggers jabbed into his upper back, sinking in as deep as she could. His eyes widened as his lips started to expand to let out a scream. Forcefully she pressed herself further into him, enhancing the kiss so pitiful muffled whimpers would be heard only by her ears.
The poisoned venom that coated her nails sank into his bloodstream, and in return she absorbed the liquid life from within him. His flesh was beginning to turn blue as his blood loss was substantial. Several more seconds passed and his failed attempts to break free were beginning to grow weaker until his body grew limp and heavy from his dead weight. Her nails forcefully drew out from him, making a sickening squishing sound as droplets of maroon pitter-pattered on the graveled ground beneath her. His body fell chaotically to the ground after Akta's grip retreated. She didn't mind if others saw her leftovers, it's not like her identity was a secret.
"Now, on to the next one..."
Last edited: