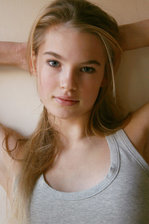 Sophie no longer needed an alarm. That need had vanished two months after the last person she knew to exist in the world died. It seemed that with the vanishing of former social norms, her body grew more attuned to the sun. She rose with it and went to sleep not long after it.
It was a beautiful Tuesday morning when she awoke. The sun barely peeking over the horizon. Orange and red and fiery – a precursor of bad weather. She would need to get her work done early today.
First was her yoga routine – something she never failed to do now. Crawling out of bed she stripped off the tshirt she slept in, finding a sports bra and pulling it on. In that and panties she began her first routine of the day. It was fast paced, and by the time she was done fifteen minutes later she was sweating in the cool bedroom. Child's Pose….deep breath. Cat-cow….she looked at the rising sun through her always open glass doors that led out to her bedroom balcony, soaking in it's warmth. Table with lifted knees…..and on and on. Sucking in deep breaths, losing herself in her small body flexing and twisting.
Once she was done she stood for a few moments. Eyes closed. Breathing deeply. Visualizing roots growing out of the bottom of her feet. Down through the five floors of the hotel. Sinking deep into the cold earth. She needed all the grounding she could get these days.
Then she dressed hurriedly – jeans, tank top, flannel shirt because it was starting to get cool, thick socks, heavy tough boots, sunglasses. A shoulder holster, and a loaded .10mm Glock G29 shoved carefully into it. Carefully because it was a gun – and these days any accident could be deadly.
Before she left her bedroom she marked the day off the calendar with a marker. It was early November. Eight months and three days since Andrea died, the last person she had known to be alive. Eight months and two weeks since the last time she had seen a living person.
Only then did she turn to one of her major daily rituals – breakfast. This morning it would be oats, because she was in a hurry. Despite the urgency to get her daily chores finished, every move was deliberate. Breakfast was important. The most important meal of the day, she thought – then listened in alarm when a hysterical giggle bubbled out of her lips. She pressed her lips thinly together, focusing on her breakfast ritual.
A pot, carefully wiped out. She had a lot of mouse traps around, but mice and rats were particularly abundant since the die-off, and she had no interest in eating rat shit. Out to her fifth floor balcony where she fired up the Coleman gas stove. It had been one of her first "purchases" after the die-off, seized from an outdoors store on the other end of town. She emptied a bottle of water into the pot, carefully salted it, then took a precisely measured spoonful of brown sugar and put it into the water. Then she dribbled honey into the water, counting to four under her breath before she closed the honey container and set it to the side.
While the water boiled she wiped out her bowl and set it nearby. Got the oats from her pantry – a metal five shelf storage unit on wheels. She measured out one cup of the oats and poured them into a small mixing bowl, then set the container back onto her pantry. She checked to make sure no little mice teeth had gotten into her food. She checked every day, even though everything was sealed in some sort of plastic or glass container. Next, two teaspoons of dry milk powder. One half of an entire shelf of her pantry was full of spices, and from these she selected cinnamon, nutmeg, and allspice, sprinkling a bit of each into her oats.
She stood looking out over the city, the bright morning sun now warming her face as she stirred her oats, dry milk, and spices together. Then she poured it into the almost-but-not-quite-boiling water, stirring as it thickened.
She ate it with another bottle of water on the dainty metal patio bistro table she had fallen in love with at a local furniture boutique, reading a book she had "checked out" from the library last yesterday, a delicious novel entitled "Where the Crawdads Sing."
After she had eaten every bite of the creamy concoction, she cleaned up using riverwater hauled twice a week using a bicycle and a sturdy gardening wagon.
Only then did she grab a flashlight and the Mossberg 12 gauge pump action shotgun by the door, shoving a handful of shells into her pockets before heading out the door. Her grocery cart was waiting outside the stairwell and she lay her shotgun across the child-basket.
She hummed to herself as she walked to the store. Five blocks south, four blocks east. She walked casually, but kept a careful eye out for animals. She had seen more and more wild animals taking to the streets recently. It wasn't just deer either. In the last month she had been hearing the howling of wolves. And just last week she had been somewhat alarmed to see a fat brown bear padding his way through town. Yesterday she had looked up bears in the library. She didn't think she would have long to worry about them this year, they usually went into hibernation later this month.
Still, it was worrisome enough she no longer contented herself with the handgun, she now carried a shotgun as well whenever she left her home.
It never occurred to her to watch for people as well. As far as she knew – there was no one left alive anymore except herself.
She had barricaded all the major food stores months ago to stop bigger animals from getting in. Wild dogs and cats had been everywhere for months before gradually fading off to a few glimpses of life here and there. But the barricades hadn't stopped the mice. She had spent almost a solid month going from store to store, taking the boxed and bagged goods and storing them in thick plastic bins. That effort had saved her a lot of heartburn over food loss.
An hour later and she was done shopping by flashlight. She left with a buggy half full of canned beans and vegetables, a bag of rice and two boxes of pasta, spices and broths, canned meat, a box of tea, a box of hot cocoa mix, a bag of pita chips, a box of gingerbread cookies, some dried fruit, some granola, and a bag of peppermints. It was overcast, a definite wet chill to the wind signifying rain was coming – and quickly. She hurried back to the hotel, almost trotting. Rain was starting to sprinkle when she dashed up to the overhand, parking her cart underneath it and grabbing the boxes and bags – the most vulnerable to rain.
A half hour later and she was unpacked, setting the gun down by the door and locking the door. She didn't know why she still locked the door. She just did.
The rest of the day was spent studying and reading as rain poured down over the silent, empty city. The light was so dim she lit a kerosene lamp for her to be able to read by. A food storage cookbook and an old book on nursing, "Notes on Nursing" by Florence Nightingale. A vintage gardening book she had found in a used bookstore down the road. And, of course, her novel. She made careful notes on everything except her novel.
Dinner was soup – a can of black beans, a can of diced tomatoes, a can of pinto beans, taco seasoning. Served over rice.
She went to bed early. The sun had just gone down. Her little home was spotless. Her notebook and head were filled with notes and plans. She was restless. But she had the cure for that.
Moonlight pooled on her bed from the open sliding glass doors as her hand slid under the blankets, slipping under her panties. The dark, silent room soon filled with her breathy soft whimpers that stole out onto the balcony.
Wednesday was always an unpleasant day, but especially after a heavy rain. Dragging the wagon of dirty clothes and linens and laundry detergent to the swollen river was a hated chore – but one that needed to be done. It took most of the day, with frequent breaks to read.
Thursday was normally a day spent for training, but it was a miserably wet and cold day and she spent it holed up in her big pantry room – a hotel room on the fourth floor she had cleared out and set up with a shelving system. Rat traps were everywhere in here, and the room kept tightly sealed against vermin. She had never once caught a rodent in here. But it had been three weeks since she had organized it, and the day was happily spent puttering around organizing and drinking hot cocoa with a peppermint in it.
Friday she woke worried about the weather, but it was fortunately dry. Delighted, she went through her yoga routine and breakfast routine swiftly. Dressed in yoga pants, sneakers, a skin tight gray tank top, and a hoodie over her blond hair. Then slung a backpack from the closet over her shoulder. She considered the handgun and shotgun, but left only with the shotgun. Her step light and happy as she headed down the street to the south. Past the Walgreens she had raided and emptied that first month. The contents were now in the fourth floor hotel room she dubbed "The Hospital". Past the McDonalds, the Dollar General, the Payday Loan company. Past the bus in the middle of the street with the three decayed bodies. Past the radio station, past the Home Depot. Then a left on Sherry Street. Three blocks down, into the small open air theater on the right.
It was what had drawn her to this small north California town. It was here she had danced so many months ago with her friends in the dance competition they would have won….if they had lived.
She hopped onto the edge of the stage, sitting and opening her backpack. Turning on her phone that she kept charged with a solar charger. She spent a few minutes silently going through pictures. Of her family back in South Carolina. Her smiling mother and two happy little sisters. All of them probably dead. Of her boyfriend, Eric. Also probably dead. Of her dance team, her friends Suzanne and Heidi.
She missed them all.
She pulled out her headphones, plugging them into the phone. Pulled out an armband cell phone holder, fastening it around her slender bare arm. She found the playlist she wanted, then tucked the phone into her phone holder. Kicked off her shoes despite the cold.
And then she danced. Sometimes it was slow and measured – very ballet like. Sometimes it was jazz, with smooth quick movements of her feet and whirling, dazzling leaps. And sometimes it was hiphop. The breeze the only audible music as she ground her hips, losing herself in the rhythm of her body.
She had been dancing for three hours with a few short breaks for water and energy bars from her backpack before they came.
Two men, armed with shotguns. Strolling into the amphitheater – probably hearing her dancing steps from the road. Standing there leering at her as she obliviously danced, her slender body curving and writhing for them, her eyes closed.
"Well, I'll be damned. Would you look at that fine piece of ass there…." One of the men spit brown chewing tobacco spit off to the side as his eyes ran up and down the lithe girlish figure on the stage.
"We can use her up some and sell her to the Mexicans down south. Fetch a good price for her."
They started moving up towards the stage, spreading out slightly to make it more difficult for her to run. They were almost on her before her eyes opened, dazed from the sheer pleasure of dancing. Until they fell on the men approaching her, the look of the predator all over them.
She froze, her pretty gray blue eyes flaring wide, her lips parting in a gasp.
They were the first living human beings she had seen in months, and the shock of seeing them gave them opportunity to leap forward, one of them grasping her small bicep in his hand.
"No!" She instinctively tried to jerk away, to run. But it was too late, and the man holding her chuckled.
"Oh yes, sweetie. Yes and yes. All night long…." He reached up, cupping her breast, squeezing.