12-06-2009, 07:47 AM
Cadrac
Mini Meteoroid


Posts: 57
Joined: Nov 2009

Thanks: 0
Given 0 thank(s) in 0 post(s)

Hentai Harem
Here is a specific plot proposal for a group game. It is intended for myself and four (or more possibly) others. The characters already have backgrounds and personalities, so please don't ask to join if playing a character created by someone else would be something you would find restrictive and not fun rather than a creative challenge to bring the described character to life--unless you wish to propose a new character for the harem to be considered once the initial four slots are filled. (I tried doing this game in a hentai rp group on flickr and only got one response, and that player almost immediately broke character completely then quit when I pointed it out, so I'm hoping that by switching to an actual RP site I'll be able to play this game. And if you're on multiple sites with me, yes, I
am
putting this same game up on all the adult RP sites I recently joined in the hopes I'll get it going successfully on at least one.)
Hentai Harem:
Prince Ravenblade and his Princess have recently been assassinated, only his young son, Damien, successfully fought off the assassin sent to kill him, preventing a complete elimination of the Royal Family. His initial days on the throne were spent tracking down and eliminating those involved in the plot that cost him his parents. Having secured his throne from internal threat, and dealt with the barbarian incursion that thought to take advantage of his realm's turmoil, Prince Damien now has time to tend to more domestic matters. His advisors insist he must locate a suitable bride soon, one who's marriage will benefit the principality, but in the meantime, they counsel, the realm is laid bare to the potential of more intrigue, or clandestine assaults by foreign powers, so long as he has no heir.
They have recommended, and he has bowed to their wisdom, that with no greatly pressing matter he need attend to personally now, he ought to assemble himself a harem and take his leisure with them as frequently as possible in the hopes that one or more of them will give birth to potential heirs. While he can always sire legitimate heirs upon his Princess once he has one, a wise ruler always has a few bastards around to ensure the continuance of his bloodline. His father had refused to do so, having been deeply in love with the girl he made his princess almost since the time he could walk, and look what disaster that had almost brought upon the realm.
Cast of Characters
Prince Damien Ravenblade
: Warrior-wizard and leader of his nation, his skill in the arts both martial and arcane are legendary amongst his people, more than adequate to overcome any of the girls in his harem, individually or en mass. His skills in the bedroom, and the erotic dungeon, while not as well known, are nearly as great, as his new prizes are soon to discover.
The Ravenblade Harem--
Crimson Moon:
A ravishing, redheaded, barbarian warrior-woman recently captured during a raid her people were making across Damien's northern border, she is currently extremely defiant, declaring loudly to all within earshot that she is a free woman, not a slave. However, she is soon to discover that she is both a painslut and a cumslut, unable to resist either pleasure or pain. While her spirit may try to rebel, her body and mind will betray her and lead her against her own will into a life of depravity and submission. It won't be very long at all before she will be unable to honestly deny that she is a born slave, eager to serve her master in any way he desires, no matter how painful, degrading, disgusting, or immoral it may be. Once broken, her submission will be total and without limits.
Aliana Starsong:
Once a mystical priestess dedicated to the goddess of magic and the night sky, this whitehaired beauty was cast out of her order and sold into slavery for violating the holy laws she had vowed to uphold. Not only did she break her vow of chastity, shedding her required virginity without a moment's hesitation, she perverted the priesthood's mystical powers, using them to entice her entire congregation into her hedonistic orgies and to enhance the pleasure of those participating in her sexual rites. She is an unashamed and unrepentant nymphomaniac, ready to have sex with man, woman, or beast on a moment's notice. In her opinion, if the goddess objected, she wouldn't still have her powers.
Lady Lauretia Battlestorm:
A younger daughter of one of the foremost nobles in the prince's court, this long-legged, lavender-haired girl was sent to be a slave in her monarch's harem by her own father in the hopes that she would become his favorite, and thereby achieve a position of power and influence which she could then use to advance House Battlestorm. Like most nobles of this realm, she has dabbled in magic, but her mystic capabilities are mainly in the magics of Hearth, Home, and Hall, little cantrips of use to the lady of a manor in caring for her lord and lodgings and spying on the other nobles at court. She had expected to use them on behalf of whomever her father arranged for her to marry, and now she is determined that while the prince may one day marry, such a marriage will entirely be an affair of state, for his heart will belong to her and his heirs will be produced from her body.
Salicia:
Shy and virginal, this young lass with long, azure locks is not technically a slave. She isn't even supposed to be in the harem. She actually is the daughter of a scullery maid from the prince's own kitchens. A few years younger than the prince, she has grown up in love with him. To begin with, he was the nice boy who always had a smile even for the children of his father's servants. However, even before she entered puberty, she had developed full-blown infatuation for the handsome prince, especially after she saw the strength and resolve with which he hunted down the traitors who had murdered his father and tried to do the same to him. Her own mother had been killed as well, one of the many casualties of the assault on the palace that ended the life of the old prince, leaving her with no family and a precarious position, as all the females of the kitchen staff had to put up with constant molestation by the Head Cook and his chief assistants.
She was virtually certain that one of them had to be her father, though only the gods could have told her which one, for her mother had been beautiful and at least one of them had had sex with her mother every night since she had begun working in the palace. When her mother died, she had only two choices--take her mother's place in the kitchens or leave the palace, penniless and homeless. They began groping her as soon as she took over her mother's job in the scullery, and she had overheard some of them discussing some sort of contest the Chief Cook had set up to determine which one of them was going to get to claim her maidenhead.
When she saw members of the prince's new harem arriving one by one, each brought by a different agent of the prince, and then left in a secure room for the palace staff to deal with, she undertook the most daring act she had ever contemplated. Knowing that she was unknown to virtually any of the palace staff outside the kitchens, she waited for the room that was being used as a temporary holding area to be empty, sent a page off with a message to the office of the prince's Seneshal that another harem girl had been delivered, secured herself in the room, stripped off her servant's livery, and stuffed it between the bars of the window to drop down into the swiftly flowing stream that ran behind the back of the fortress. Finally, she would be able to give herself body and soul to the prince she loved.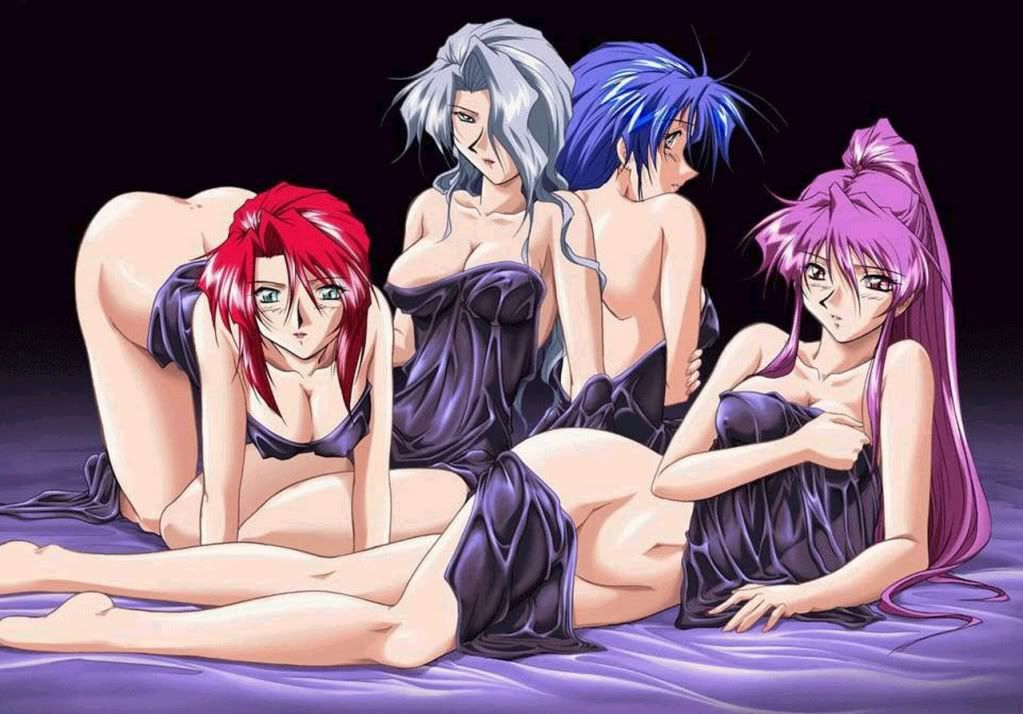 As you can probably tell from the character backgrounds above, I tend to be verbose in my writing. Please don't join this roleplay unless you are willing to write at least an entire paragraph, preferably more than one unless circumstances dictate otherwise, with each posting and check your post for spelling and grammar before finalizing it. Also, please maintain the literary style I will be establishing (3rd person, past--e.g. The prince entered the room and swept it with his gaze..; not 1st person, present--e.g. I enter the room and sweep it with my gaze.) in my opening post. I prefer my RP's to read like a story, not a chat log.
There are several girls to choose from. (I'll be playing the prince.) Please be sure and choose a character whom you are willing to play as depicted in their background. This is going to be a story about a willing harem of sex slaves. While Crimson Moon is written as initially resistant, she will swiftly transform into the most submissive, willing, and obedient of the four. The priestess is a total hedonist who does not object to her new lot in life, the noble girl plans to use her body to turn her status into that of wife in all but name (and expects that she and the prince will be madly in love with each other by then), and the servant girl is already madly in love with the prince and would do anything for him whether or not he ever returns her love.
If all four roles become filled and more people still desire to join the story, there is always room for more girls in the harem, but please contact me directly about any new girls you may wish to add to the story. I don't wish this to be a story where any of the girls in the harem don't want to be there (except, perhaps, along the lines of Crimson Moon, where a girl who initially is defiant or withdrawn because of being enslaved against her will comes to realize that she is actually now what and where she most truly wants to be.)
12-06-2009, 01:45 PM
Sinful Bliss
Queen of Lust / Lustfull_Sin's Mistress


Posts: 433
Joined: Nov 2009

Thanks: 0
Given 0 thank(s) in 0 post(s)

Re: Hentai Harem
I be willing to play as Crimson Moon since I know how to play a defiant woman before she becomes a willing sex slave. This kind of roleplay absolutely suit my tastes and kinks.
12-06-2009, 02:53 PM
Raiden
Milky Way


Posts: 1,126
Joined: Jan 2009

Thanks: 0
Given 0 thank(s) in 0 post(s)

Re: Hentai Harem
I'd be interestedi n playing someone like the prince's best man, friend or whatnot. Either that or a new slave female hailing from an amazon regionthat absolutely hates men.
12-07-2009, 07:16 AM
Cadrac
Mini Meteoroid


Posts: 57
Joined: Nov 2009

Thanks: 0
Given 0 thank(s) in 0 post(s)

Re: Hentai Harem
Well, Crimson Moon already fills the defiant slave category, and I definitely want this to be a harem of willing slaves. Even Moon didn't already have that role covered, I would hesitate to add your amazon for two reasons. I intentionally wrote the character of Crimson Moon to be one who will break herself more than he will break her. Almost from the moment he claims her virginity she's going to be fighting her own body's enjoyment of both the pleasure and the pain he gives her as much as she's going to be fighting any technique he uses on her. And in addition to that, I don't want to add new girls until the current cast of characters is already filled. As for friends of his, the whole point of assembling this harem was to provide heirs to secure his throne, so the harem is going to be absolutely off limits to all other men to ensure the parentage of any children the harem girls bear. So I don't see the potential for another male role in this story.
12-07-2009, 02:31 PM
Raiden
Milky Way


Posts: 1,126
Joined: Jan 2009

Thanks: 0
Given 0 thank(s) in 0 post(s)

Re: Hentai Harem
So basically it's just you wanting to get as much tail as humanly possible huh? *laughs* well it is your sandbox.

Isn't the cast already filled though? It seems to be. And obstinately amazonian women are all I can play, I just think that they have a right not to like it as well.
12-11-2009, 10:28 AM
Cadrac
Mini Meteoroid


Posts: 57
Joined: Nov 2009

Thanks: 0
Given 0 thank(s) in 0 post(s)

Re: Hentai Harem
So far, of the cast, only the prince and Crimson Moon are spoken for. Another possible role for your amazon did occur to me, though. She'd make an admirable harem guard once I have successfully cast the rest of the parts. (For one thing, I wouldn't want to introduce her until after Crimson Moon has already become a willing member of the harem. Then if your character wants to seduce any of the lovely ladies it won't be a seduction that has any chance of convincing them they don't want to be in the harem.) After all, he wouldn't have to worry about a lesbian amazon fathering any kids and while she couldn't keep the prince away from them, she would be able to ensure that no other man had a chance to soil the lovely ladies. It would almost be like having her own little harem, assuming any of the girls besides the priestess, whom we know to be bisexual, give any sort of a positive response to your advances. But even if they don't, the priestess would definitely be up for you and she fucking each others brains out. Assuming I get some one to play the priestess, of course.
12-11-2009, 01:30 PM
The Decadent Aiyoku
Space Junk


Posts: 5
Joined: Dec 2009

Thanks: 0
Given 0 thank(s) in 0 post(s)

Re: Hentai Harem
Hehe, I'd love to play Aliana Starsong. She sounds like my type of priestess, indefinitely.
*~*She is the sinful desires of every being and the demon of lust who enchants with a glance.
All hail your dark, secret, pleasure warped dreams to Aiyoku, Goddess of Lust.*~*
Follow The White Rabbit?
12-11-2009, 01:44 PM
Raiden
Milky Way


Posts: 1,126
Joined: Jan 2009

Thanks: 0
Given 0 thank(s) in 0 post(s)

Re: Hentai Harem
Well It might do just as well. The char I have on mind is largely Asexual and doesn't have a real interest in the activity itself and looks down upon people that enjoy it as "weak" due to teh distraction it causes. Which might make her a fiine harem guard since she wouldn't have an interest in anyone there including princy-poo.
12-11-2009, 03:52 PM
Cadrac
Mini Meteoroid


Posts: 57
Joined: Nov 2009

Thanks: 0
Given 0 thank(s) in 0 post(s)

Re: Hentai Harem
So, that fills two out of the four roles. If no one claims the other two by the end of the weekend, I'll just launch with the people who are already in it and basically assume those are the first girls acquired for the harem and the others can be added as people express an interest.
12-11-2009, 09:40 PM
Vexi
Space Junk


Posts: 2
Joined: Jun 2009

Thanks: 0
Given 0 thank(s) in 0 post(s)

Re: Hentai Harem
I don't normally do this sort of thing, but I think I might be intrigued. I'd be interested in playing Salicia, if it's still open. I like her relative innocence and the depth of her character.

I am a little curious about how this would work, though. I get that the Prince Damien would be rather busy, with five women in his harem, and a kingdom to run. But what are the rest of us to be doing when he's...occupied? Interact with the palace? Talk to the others? It's easy to lose interest in a group game where every character revolves around the interest of one specific player and isn't interested in sharing.
12-13-2009, 11:52 AM
Cadrac
Mini Meteoroid


Posts: 57
Joined: Nov 2009

Thanks: 0
Given 0 thank(s) in 0 post(s)

Re: Hentai Harem
Well, I definitely envisioned all the girls would have lives beyond mere sex. Harems are famous for their rivalries and politics, so I see the potential for your characters competing with each other, forming friendships both false and true, generally interacting with each other and entertaining each other.

Each character has their own individual quirks that will affect their interactions with the others in the harem. Early on, Crimson Moon might attempt to convince you all to rally together in opposing the prince or in escaping. Once she has changed her viewpoint, she might be going to the more experience characters looking for help in keeping the prince's attentions.

Aliana will likely attempt to seduce each and every person in the harem, including the amazon guard. While she will enjoy the prince's attentions when she receives them, she doesn't really need them if the other girls in the harem are willing to find enjoyment and pleasure in her arms.

Lady Lauretia is the one most likely to view all the other girls as rivals in the way of her plans. What she does about that will be up to whoever ends up claiming that character.

Salicia is just there for her beloved prince, so she will probably be friendly to the other girls, and may have some jealousy, but isn't likely to be upset with them or the prince, because she wants whatever she can have of him and whatever makes him happy. Being naive, and only having previously had feelings for the prince, she may or may not discover herself capable of erotic and/or romantic feelings regarding her fellow harem girls as well, though Aliana will doubtlessly be encouraging her to at least try it.

In addition to interacting with each other, and the amazon guard, there is always the potential of interacting with other ladies of the court, many of whom Lauretia will already know, and possibly have friends, or at least people she is friendly with, amongst them. These ladies could be interacted with in the environs of the Seraglio or, once Crimson Moon is no longer a flight risk, your group could be escorted to other parts of the palace by their amazon guard to participate in social interaction with the court ladies. (Until the necessary heir or two is secured, the prince has been advised to allow other men no contact with you at all so their can be no question of the childrens' sire. If we continue the game long enough for said children to be born, that opens up both new activities related to the children and the eventual expansion of full interaction with all those within the palace, and possibly beyond.)

And, of course, if additional people express an interest to join, whether that be as additional members of the harem, additional amazon guards working for the one who's player has already joined, or members of the court, each new character opens up additional roleplaying opportunities that don't require the prince's direct attention at that moment. I definitely see harem intrigue as playing a significant role in this story, especially if we get a player for Lauretia, and even more if we get additional players beyond the original cast and one or more other characters are introduced with aspirations of power, either over the prince, within the harem, or both. I'm also figuring most of the characters will eventually end up bisexual--Aliana to start with, and the others for various motivations once they realize that the prince enjoys dallying with more than one of them at once and watching them dally with each other, especially once they start to suspect that the prince has ways of observing them even when he's not there. (After all, he is a renowned mage, and if he likes to watch, he can do so from his own bed.)
12-13-2009, 02:25 PM
Raiden
Milky Way


Posts: 1,126
Joined: Jan 2009

Thanks: 0
Given 0 thank(s) in 0 post(s)

Re: Hentai Harem
In other words.... he's a lazy possessive bastard? *grins* I'm just kidding.
12-20-2009, 07:56 AM
Gondolina
Mini Meteoroid


Posts: 159
Joined: Jun 2009

Thanks: 0
Given 0 thank(s) in 0 post(s)

Re: Hentai Harem
I would have loved to do the role of Crimson Moon but since that is filled, I don't mind trying out with the last remaining lady of the harem - Lady Lauretia Battlestorm.
12-20-2009, 11:35 PM
Cadrac
Mini Meteoroid


Posts: 57
Joined: Nov 2009

Thanks: 0
Given 0 thank(s) in 0 post(s)

Re: Hentai Harem
With Gondolina's joining us, the initial cast is complete, so I have begun the thread in Group Roleplays.
Hentai Harem Thread
User(s) browsing this thread: 1 Guest(s)
---