How clothing reflects you!?
02-26-2010, 02:19 AM
Sweetly_masked
Solar Eclipse


Posts: 247
Joined: Aug 2009

Thanks: 0
Given 1 thank(s) in 1 post(s)

How clothing reflects you!?
Hey Bluemoon!
I'm working on my senior paper right now and I would LOVE your guy's input on the matter.
My thesis is:
Clothing choices, both in fashion and in costuming, reflects what a person wants to communicate to the world both consciously and subconsciously.
I want to know why you wear the clothing you do, What colors you like to wear, how it makes you feel and anything else on the topic. I know this topic effects women more, but guys, you can talk about how girls that dress a certain way attract you and ECT. I would LOVE LOVE LOVE you if you could talk about how as an actor(maybe cosplayer) wearing a costume affects you and the way you feel.
If you could also give me your real name that would be great. I plan to use some of these as my interview source. Please and thank you.
02-26-2010, 10:38 AM
darkangel76
.:GaLe:.


Posts: 18,404
Joined: Jan 2010

Thanks: 1
Given 15 thank(s) in 13 post(s)

Re: How clothing reflects you!?
well, i'm game to help out.

for me, i almost always choose comfort over everything else when it comes to my clothing choices. so, you'll typically find me dragging out my jeans, tshirts, knit tops, etc out of my closet. i do like wearing sundresses and skirts in the summer tho, but they MUST be comfy. if they aren't, i won't wear them frequently. lol. of course, this doesn't mean i don't like dressing up every so often b/c i do. but a lot of the times it just isn't practical for me. XD i guess you could say i dress more guy-ish on the average day. tho this is not the case when it comes to underwear. very much girl there. actually, i'm a girly girl there. but i don't know if those count as 'clothes'. lol.

i'm not into brands. could care less about them. if they look good, are of decent quality and all that jazz, i'm happy with it. so no. you won't find many brand names in my closet unless someone else bought me the article of clothing, lol.

color wise, i tend to go for darker colors in general. like blacks, deep browns, grays, dark blues, dark greens, maroon. tho i have a thing for red and orange. but typically i go for the darker more neutral shades. not really sure why, but i find myself attracted to such colors more often.

as for what kind of dress/style i find attractive in a guy? there are a few and i find it depends on the general look of the guy (meaning his build, hair style, etc). typically i find myself ogling guys who dress more grunge or skater punk in their style (this does NOT mean they're dirty, lol). i also love the jeans, tshirt, leather jacket look as well as the intellectual look (like jeans or dockers with a button down where the sleeves are rolled up haphazardly). i'm not sure what it is about these looks, but i find myself attracted to them. a lot.

now, i'm not a cosplayer, BUT... i do love dressing up for halloween. for me, it's fun to be someone else for a day and on a day where most of the ppl around you will actually accept this. almost every year i dress up and i have my favorites as far as costumes go. vampires are a hit with me and i have a thing for being alice from 'alice in wonderland'. vampires, if you know me, are an obvious love. i love the idea of them like you wouldn't believe, so pretend i'm a vampire is just fun and something i find damned erotic too. as for alice, i've always had a love for the alice books and all the craziness that's hidden within the stories. so again, if you know me, it's not really a surprise that i'd be drawn to such a costume.

anyway, that's all i have now. if you need or want any other info. let me know and i'll be happy to add. oh... and you said you needed our real names? mine is meredith.
.:Iron and Ink:.
My Book Journal // LotR RP Journal
If I ever seem to be posting slowly or erratically, check out my Journal for info.
Req Thread // F-List // Journal // Plot Journal // Character Journal
.:Forever Fairy Tail:.
02-26-2010, 05:07 PM
Ionene
Space Junk


Posts: 11
Joined: Feb 2010

Thanks: 0
Given 0 thank(s) in 0 post(s)

Re: How clothing reflects you!?
Go to
http://scholar.google.com/
and search "clothing choice". You'll get a wealth of research done on the subject.
If you are looking for personal experience, however... I adamantly refuse to wear ugg boots, leggings and north face jackets for a reason. It's practically the fucking uniform around here. EVERYONE wears them. Besides, I don't consider the look particularly fashionable.
Personally, I think there's a lot more to fashion preferences than just "what people like". There are elements of social class, economic status, sexual attitudes... People dress goth, or wear low-cut tops, or tote around their Louis Vuitton paraphernalia, for deeper reasons than just personal preference, in the majority of cases. At least, that's what I think.
02-27-2010, 01:15 AM
Tathariel


Supporter of Blue Moon


Posts: 1,370
Joined: Jan 2009

Thanks: 0
Given 0 thank(s) in 0 post(s)

Re: How clothing reflects you!?
Hmmmm.....

dont really wear hoodies much, nor sweaters.
I wear basketball shorts when its hot and I dont feel like wearing jeans.
Im totally comfterable walking around town in flip-flops, shorts, and a t-shirt.

When I go out at night though.
Id say I like to wear shirts with lots of graphics and style on them.
I cant think of the word, but its usually the kind of flashy shirts you gotta buy at buckle for like 60 bucks a pop.
I can be vain too.

Brands dont usually matter to me, as long as I think they look good.

I wear all sorts of diffrent colored T-shirts, everything from white to purple. A good majority of them are darker shades however.

My jeans however are usually boot-cut, and most of the time are blue.
A normal brown belt is the only one I use.

I usually wear black sneakers or tan boots when Im out.

If its cold, I have 1 black South Pole hoodie, it fits my form really well and its a zip up. thats why I wear it.
I have 1 real leather jacket that I always wear, expensive as fuck lol, but I usually wear that over what im wearing.
I almost always wear a small silver necklace with a crucifix.

Oh yeah, My name is Richie.
02-27-2010, 11:29 AM
ArcturusV


Supporter of Blue Moon


Posts: 648
Joined: Jan 2010

Thanks: 0
Given 0 thank(s) in 0 post(s)

Re: How clothing reflects you!?
I wear, and choose, clothing based usually upon the load capacity of said clothing. I pick out my shirts to try and make sure they have some functional pockets on them, jackets especially, and pants. Deep, strongly stitched together. Usually have hooded sweaters because they do have that large pocket up front. Reason why is simple enough, I carry around a lot of things on hand most days, and I want to be able to keep them on hand. There's a bit of a backstory to it as well as earlier in my life I was homeless for quite a stint with only the clothing on my back. Being able to scavenge and carry around things until I needed them became pretty important.

I wear things that are necessarily more rugged rather than stylish. I've never had a good fashion sense, I just can't make taht "Oh, that'll look good, espeically with X, Y and Z in my closet" connections. I'm a grunt anyways and work hard at jobs that tend to be rough on clothing anyway, so my practical nature tells me to just buy cheap clothing that rugged for the job.

For the most part, I don't care what I look like. Not exactly a prettyboy here, and there's things that are a higher priority for me than primping enough to look good.

That said, if I have a reason I attempt to clean up nicely. Usually just the few times I have a date or some official function to go to for work. Tend to wear some nice long sleeve shirts. Simple, dark colors, if any sort of pattern just simple pinstripes. Nice pair of slacks, some dress boots, nothing too fancy. Usually all black. Just usually feel that since I'm not all that good looking to start that I'm safer off with old simple styles rather than trying something fancier.

Name's Jonathan by the way.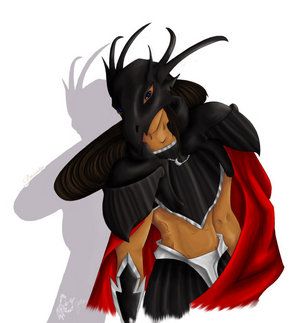 02-27-2010, 07:48 PM
Sweetly_masked
Solar Eclipse


Posts: 247
Joined: Aug 2009

Thanks: 0
Given 1 thank(s) in 1 post(s)

Re: How clothing reflects you!?
Thank you everyone! There were some interesting things said that I haven't even thought about.
User(s) browsing this thread: 1 Guest(s)
---