CHARACTER PROFILES [updated 4-26]
10-18-2011, 09:06 AM
JinmeiXaolung
Angel with a shotgun


Posts: 128
Joined: Oct 2011

Thanks: 0
Given 0 thank(s) in 0 post(s)

RE: CHARACTER PROFILES [updated 4-26]
Name: Jinmei Xaolung (A.K.A. Cross)
Age: 19
Gender: Female(Futa Optnl.)
Species: Daemon
Human Appearance:
Demon Appearance:
Red Version:
Black Version:
Personality: Fun, happy and often outgoing. She finds that she's a curious individual and surprisingly accute. A few people have commented on her body, though she generally finds noone's interested in a girl as flat-chested as herself. It disheartens her a little, still being a virgin and everything, but that doesn't really stop her from living her life the way she sees fit.
Background: Born in the seventh ring of hell, she quickly worked her way up and realized that unlike most demons, she was capable of two transformations depending on her mood and mental state. The Red Transformation is triggered when she's angry and has a compulsive urge to punch someone in the face, with it comes extensive knowledge in martial arts and how to properly wield a scythe. The black transformation triggers the half of her that taps into the knowledge of the ancients, granting her access to dark magic beyond many's controls.
Family: None at the moment.
Extras:
-All Around Virgin
-Barely fills a C-cup
- Bi-sexual
06-24-2012, 09:38 PM
RavenCrowDwellerSama
TheOneAndOnlyRaven


Posts: 3
Joined: Jun 2012

Thanks: 0
Given 0 thank(s) in 0 post(s)

RE: CHARACTER PROFILES [updated 4-26]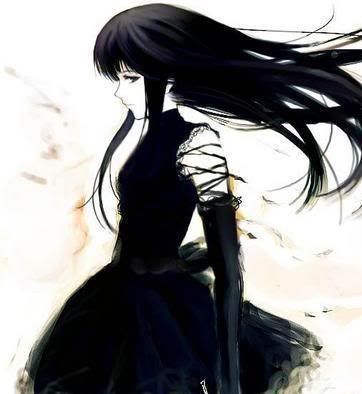 Full Name: Kallista Bethero The Lady of Thorns
Species: Supernatural
Birth: 02/29/ 20th Century
Current Residence: London, United Kingdom
Height: 6'3"
Blood Type: B
Hair Color: Pitch Black
Eye Color: Multi-Color(Can change)
Weapon Of Choice: Unknown
Classification: Witch
Alignment: Neutral
Companion: Smitt- Cat Familiar
Likes: Being Wiccan, Gingersnap cookies, Autumn leaves, Goddesses, Black tea, Frozen yogurt, candles, incense, scented oils, Magick, Immortals and supernaturals, and her Jonquil flowers.
Dislikes: Humans, War Without Logic, Deaths of Mothers and Children, Pointless arguements, Rudeness, People who use the term ass and hole together, Being called hurtful names, Discrimination, Coffee, Pork, Snakes, Liars, Perverts, and sometimes Lightening.
Bio:
Kallista Bethero is someone attuned to nature, and the gentle flow of life, the passing seasons, and the phases of the moon. She senses the constant flow of energy and seeks to understand and shape it. She sees life and nature as sacred and beautiful, and so she strives to heal and nourish both. Kallista is ruled by her heart and intuition, she holds nothing back as she faces the world with courage and a lust for adventure and life. She discovers the mysteries, the magick that lies within her, reclaiming them for women everywhere. She is the embodiment of love and compassion, always giving of herself to those in need. She will be aggressive in defending those who can not defend themselves, the oppressed and abused. Seeking justice for all the wrongs. Kallista is independent and free, sexually liberated, and untamed. She is a witch and is one who is in love with the Goddess as well as herself.

Kallista was born to parents who were hunted for their classifications. They were persecuted for putting hexes on and sending curses to people. They were considered monsters, and were accused of selling their souls to the devil. To protect their beloved daughter from their fate of being hung Kallista's mother sent her only child to her sister who lived in the country after she was born. Her Aunt Merri-Keta adopted her and taught her in secret the ways of witchcraft. Kallista learned that magick was life. Every breath she took, every heartbeat, it was all magick. Kallista learned that being a witch was about honoring the sacred and taking control and responsibility for her own life. When she was old enough to be on her own at twenty two Kallista moved into a cottage house a little more far into the woods from her Aunt's country farm. There she practiced her spells, charms, and prayers. She would leave to go into town to have fun like any other human but had to keep what she was secret in fear of ending up like her parents. It was heart breaking to do this for she wanted desperately to be acknowledged of her sacred title to be proud and free. But the world is cruel and hateful, dark and frightening. The world was a hypocrite. Fearing the unknown and using violence to shun it. Thus her becoming a misanthropist.
User(s) browsing this thread: 1 Guest(s)
---