Joined

Jul 24, 2020
Location
Characters from disbanded roleplays I have grown quite fond of and would like to play again.
(All characters posted here can and will of course be tweaked and edited to fit whatever new setting they find themselves in, including but not limited to their background.)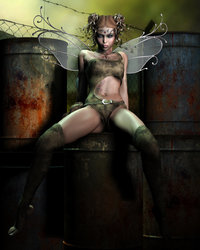 Character Name:
Aoura Stani Umpiva-Jask Leh (Aoura Leh for short).
Age:
16
Species:
Dolarian.
Gender:
Female
Orientation:
Pansexual
Weapon Proficiencies:
Dual swords
, Whip.
Background:
Dolaria is a planet covered mostly in dense jungles and treacherous swamps filled with flesh eating plants, inhabited mainly by lizards, amphibians, insects, arachnids, mollusks and other invertebrates such as worms and centipedes of varying sizes. The Dolarians are a rather small Humanoid species, (adults range in height from 130-160 cm) with insect-like wings and an extrudable tongue with which to catch small insects. They are an egg-laying species and once the eggs are laid in specifically designed nurseries they are abandoned by the mother and once hatched the Dolarian offspring spend their first year as larvae before cocooning for another six months before appearing in their Humanoid form. This counts as their official birthday. Once that form has been achieved they are educated in ancient Dolarian traditions and history as well as science, technology and the art of war. It is during these first twelve years of their Humanoid lives that they are selected for their future professions, (Bureaucrats, Soldiers, Scholars, Clerics, Medics or Workers), based entirely on the merits they show excellence in. It is also in the twelfth year of their education that they are assigned mates with which they are expected to breed, apart from that obligation there are no expectation of loyalty or fidelity to their mate. They are free to engage in sexual acts with whomever they choose, as long as they do not breed with anyone other than their assigned mate.
Aoura proved herself to be proficient with all manners of blades, far surpassing everyone in her class and defeating her mentor at the age of ten, but lacked the discipline to become a soldier. She also showed great skills in medicine and science but as with her proficiency with blades she lacked discipline in both those areas as well. The same proved to be true with her leadership skills as well and having no interest at all in religion she was selected to be a worker. When time came for graduation and with that being assigned a mate Aoura refused to accept such an obsolete tradition claiming she had no interest at all in breeding and made an official complaint of it to the Bureau of Reproduction but her complaint was denied. She was however presented with a choice, either accept her assigned mate or be permanently exiled from Dolaria. She chose the latter and spent most of the following years travelling through the galaxy as a sword for hire, and also doing some smuggling.
* About Aoura's age: As specified in the backstory Dolarian's have an insect-like life-cycle and as they Hatch from their cocoons they would appear to be the equivalent of 10 years old in Human years. This means that a 16 years old Dolarian would be equivalent in age to a 26 years old Human. It also means that the age at which they are assigned mates to breed with is equivalent to 22 in Human years.
Full Name:
Kim Suji
Alias:
Chameleon Kitty
Age:
19
Gender:
Female
Orientation:
Lesbian.
Major Power:
Camouflage (Can blend in with the environment to the point of becoming invisible as long as she doesn't move. If she moves she would be visible as a shadow, or a disturbance in the background.)
Minor Powers:
Heightened agility, feline fangs and retractable claws.
Complications/Side Effects:
Pointy ears, whiskers (not seen in the image reference but easily imagined I hope), possibly also a tail, extremely high metabolism, (basically has to eat all the time, the higher in carbs and fat the better.)
Last edited: