Life is but a dream, sweetheart!
Joined

Jun 13, 2019
Location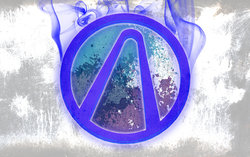 SPOILER ALERT AHEAD!! YOU HAVE BEEN WARNED!!!
Three years after Lilith had disappeared to Elpis, leaving a scorching mark in her wake, the world beneath had been driven to chaos. Pandora, with the planet itself slowly corroding from the inside out, had started to quake on a near-hourly bases, creating deep, jagged scars and dangerous sinkholes that sucked away everything in their path.

Companies that had once called Pandora home, packed up and left by the dozens, leaving their businesses and homes abandoned. Tall, looming structures with hollow, broken windows that looked like sunken eyes were pillaged and ransacked. Their usually clean and well-maintained exteriors were now left vulnerable to the crazed psychos that still inhabited Pandora, who took full advantage with spray paint, buzz saws, and blood, leaving their mark on all the exposed surfaces.

In Pandora's orbit sat Sanctuary, the new leader of the Crimson Raiders unable to bring herself from leaving, despite protests and pleas from the cabin and crew. Azure eyes continuously strayed to Elpis, staying close in hopes of catching a single ECHO, a request for boarding, anything. Everything was silent in the cock pit, until it happened. An ECHO - a plea for help. But, what came up on the screen was not Lilith. It wasn't anyone that any of the crew had expected to see:
"VAULT HUNTER?! ANYONE?! THEY'RE ATTACKING MY M*****F****** HOME PLANET! TEDIORE - IS ATTACKING - MY HOME F****** PLANET! HEEEEEEEEEEEEEEEEEEEEELP-!"
And just like that, the request for help was cut off. Tediore? Attacking Torgue?? Something wasn't right.

Sounds like the Vault Hunters have another job to do.
------------
This is where you come in. We're looking for a few characters to join our story; to help bring along an imaginative, immersive, fun place for RP that works for everyone! It will be a small gathering of roughly 20 people, and scheduled to boot! This means that you can expect everyone on the roster to show up, and smaller group means more attention to the characters, interactions, and development of others!
This RP is majority of OC content.
If you're still reading, here's some things you may need to join!
Be active at the scheduled times!
Must be 21+ - no exceptions!
Be comfortable with following given plot given (Vault Hunters, that's you), and helping to create it with a workable flow (everyone else, that's you).
Be all right with interviewing for your character(s) and spot(s) in RP.
Be respectful and friendly with others.
Be COMMUNICATIVE.
Be finished up with the series to this point (no sense in joining when everything is a spoiler)! This means Borderlands 1, 2, and 3, plus TFTBL and The PreSequel.
Of course there'll be more rules and concerns, or whatever, but that's for the server. For now, just reply with your Discord Tag so we can open a line of communication!
What we're looking for is:
Four interesting Vault Hunters- OC, of course.
A few bad guys- OC, of course. (You have free reign to do whatever you want plot-wise for your Bad Guy so long as you discuss it with the Admins first)
(Alive) "NPCs" (Marcus, Zer0, Tannis- to name a few). THIS ROLE IS VERY IMPORTANT AND YOU WILL BE REQUIRED TO DO MORE WORK THAN THE OTHER RPERS MERELY BECAUSE YOU ARE PLOT DEVICES.
People to play four canon, major gun companies: two CEOs already exist, one is from a side mission, and the other is completely made up. All four have hidden for now for story purposes and will be spoken about if you wish to play one.
If you're looking for an OC spot, we'll send you a template for an OC venting (so we can learn about your character, see if they fit into the story, and welcome them aboard).
With all that being said, I hope we hear from you soon!
THIS IS THE DISCORD SERVER!
- It is still under construction, we are currently interviewing and collecting people first before opening up the story to everyone.
-Kire and Kris
Last edited: