Welcoming Committee
Welcoming Committee
Joined

Jun 1, 2019
Location
So incredibly proud of my little brother. Today he is two months clean and sober! It's really good to see the person he used to be back and as he should be. It's been a rough road, it's hard watching someone you know and love become someone they aren't, someone you don't know and recognize but it's great seeing them come back.

and on a lighter note......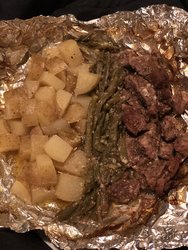 Another of my infamous favorites, the foil dinners. I haven't made one in a bit. Beef tips, green beans and potatoes. Delish!