11-07-2011, 02:11 PM
darkangel76
BMR's Baby Momma


Posts: 13,743
Joined: Jan 2010
NaNoWriMo 2011 Contest
NaNoWriMo
(National Novel Writing Month) is held every year during the entire month of November. The challenge is to write a novel in 30 days, starting no earlier than November 1st and having to stop on November 30th (though, of course, being a 'self imposed challenge' one can write for longer... it's just a means of tracking word count, etc).
For those participating in NaNoWriMo 2011, if you'd like to submit an excerpt of your novel by November 29, 2011 11:59pm ET to a staff member (red or green names) via PMs, they will be posted anonymously here in 'Contests' for people to choose as a favorite. The one with most picks for favorite will be the winner. Also, if any who choose to submit an excerpt wish for feedback, please let us know. We'll indicate your request when posting your submissions for polling.
If feedback is requested, any and all members should feel free to help as they can. Please, however, no flaming. This is for serious constructive criticism and should be treated as such. Anyone who flames will be issued a warning, no exceptions.
That said, good luck to all participating in NaNoWriMo 2011, whether or not you choose to submit a portion here or not.
Protected by Hahvoc The Decepticon
If I ever seem to be posting slowly or erratically, check out my Journal for info.

Fast forward to 1:54
Req Thread // F-List // Journal // Plot Journal // HP REVAMP Group RP
01-14-2012, 03:37 AM
Datenshi
Submissive Fallen Angel


Posts: 99
Joined: Jan 2012
RE: NaNoWriMo 2011 Contest
I know it's a bit of a belated reply, but I participated in this. I only made 48k in word, but I was close. And I was really proud of what I did get done. It's a lot of fun and good practice for those who want to write for a living.
Or if you just want to challenge yourself, that works too.
~My Personal F-list~
~My Premade Characters~
~
Tenshi Diani
~
Serenity Inalee
~
Natalie Astin
What can I say? I like to be dominated.
Current Roleplays Involved in: 1/3
Just a side note: if you stop replying, I will likely just assume you are done. Roleplays die. I won't get mad.
Also, RL is a bit hectic for me right now, so responses may come a bit slow.
11-10-2012, 01:51 AM
RE: NaNoWriMo 2011 Contest
Is there going to be one for this year?
Proud Whovian and roleplay...this is my
request thread
Due to scheduling I only get rare internet access so if it takes a week or more to reply it's cause of interwebs.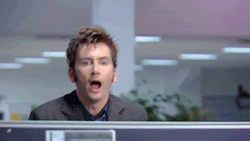 That moment where everything is fine, you have a mission, a goal, a something to do, and then...
User(s) browsing this thread: 1 Guest(s)
---